Consultant Clinical Psychologist
Dr.Indrani Dutta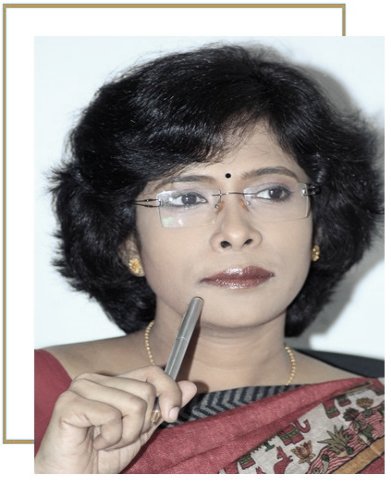 When you're feeling down, do you reach out for a friend or a therapist? If you've never tried therapy before, how can you know if it's the right choice for you? That's where Dr. Indrani Dutta comes in.
If you're feeling stressed, worried, or anxious about your life and its complications, Dr. Indrani Dutta can help.
She is a well-known psychologist with over 15 years of experience in the field. Before earning her Ph.D at the University of Calcutta, she earned her M Phil and MA Applied Psychology degrees from C.U., Gokhale Memorial Girls' College. In addition to this, she has received training in Medical & Social Psychology from C.I.P Ranchi University, where she was awarded a first class degree in both her MA and M Phil degrees by receiving distinction for that coursework.
Dr. Dutta has been practicing psychology and has helped many people with their lives. She specializes in medical and social psychology, but also works with individuals from all walks of life, from children to adults to seniors. 
She understands that everyone is different—and that means your needs are unique as well! That's why she'll work with you to find the best approach for your situation based on your symptoms and concerns.
So if you're looking for a professional—someone who cares about what makes YOU feel at ease—then look no further than Dr. Indrani Dutta! 
We're here to help you win, so when you need us, just reach out.
Our Psychology
It's a stressful world we live in
Modern era is considered to be an era of stress. Everybody is stressed or pressurized in some way or the other. Sometimes the source of stress is recognized and identified, while otherwise, it remains unspecified and unnoticed. Different segments of society, starting from school going student, teenagers, middle aged and of course the elderly people are affected by the ever increasing demands of ultramodern society. As a result, many problems are coming up.
That is the time when life is no longer simple and complication starts to set in.
You're not alone. And we have a cure…
This can be hard to hear but it's true: our lives have changed so dramatically that modern society is placing more demands on us than our brains are equipped to handle. Dr. Indrani offers a simple way for you to help yourself. It's safe and effective, so you can start feeling better immediately and secure a better future for yourself and your family.